New York City Spine Care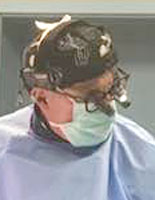 Dr. Eidelson sees patients monthly in New York for non-operative treatment of spinal stenosis and disc herniation. Most patients do NOT require surgery.
Convenient Upper East Side Location.
Call the Delray Beach office for information or to make appointment.
(561) 742-5959
Dr. Stewart G. Eidelson is a renowned Fellowship trained and Board Certified Orthopaedic Spine Surgeon. He has performed more than 4,000 spine surgeries utilizing the most advanced technologies. He is a leader in minimally invasive procedures to remedy disc disorders (degenerative disc disease), herniated discs and to treat spinal stenosis. Dr. Eidelson's primary areas of research are spinal stenosis and lumbar and cervical spine problems. He has published outcome studies that determine the most effective treatments for cervical and lumbar spine problems. He also has a keen interest in the application of minimally invasive surgery techniques to spinal stenosis in the active senior.
2nd Opinions, Spinal Pain Management, and Spinal Consultation in New York City.
911 Park Avenue
New York, New York
10075
Phone - 561-742-5959 (for information on New York availability)
The basis of Dr. Eidelson's practice is non-surgical solutions to spinal problems. Fewer than 10% of Dr. Eidelson's patients require spine surgery! He follows a multidisciplinary approach to medical treatment, which is quite successful in mature and active senior patients. His practice includes a team of medical professionals and associates who work under Dr. Eidelson's close direction to provide optimal treatment therapies, pain management, and other services.
Dr. Eidelson views patient education as intrinsic to his medical practice. He has published several books for patients - most recently, Advanced Technologies to Treat Neck and Back Pain, A Patient's Guide.
In addition, Dr. Eidelson is the Director of Spine Services for Integrated Spine Practice for Spinal Stenosis, Spinal Reconstructive Surgery and Minimally Invasive Disc Surgery. Integrated Spine Practice is a center of excellence founded on the principle that the treatment of lumbar or cervical spine illness requires
Multidisciplinary Treatment
Minimally Invasive Surgery is Preferred where appropriate
Ongoing Research into improved lumbar and cervical technique is required
Dr. Eidelson is committed to continual improvement of the art and science of medicine. There is a growing national awareness of the importance of reducing radiation exposure during pain management procedures. Dr. Eidelson is one of a very few pain management physicians in Florida to have studied for, sat, and passed the rigorous examinations of the American Registry of Radiologic Technologists.