Dr. Eidelson has once again been honored with the 2018 Compassionate Doctor Award from Vitals.com. The award recognizes doctors who treat patients - not just conditions – with care and grace. In a recent Vitals Index survey, 1 out of 3 respondents said that a doctor who "listens and spends time" with them was the most important quality indicator.
Research shows that the better the patient experience, the better the clinical outcome. That's because patients who trust their doctor are more likely to adhere to a physician's advice and take prescribed medications according to schedule.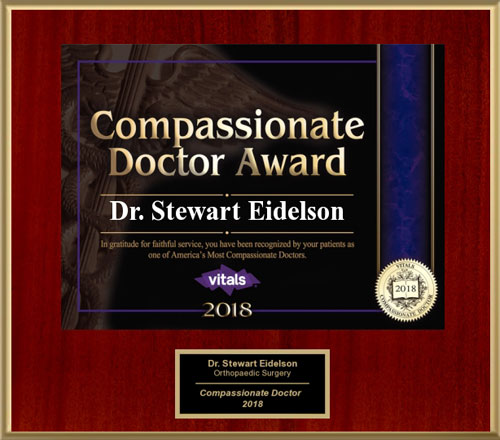 "The doctor-patient relationship is not much different from any other relationship we value," said Mitch Rothschild, Executive Chairman and Founder of Vitals. "It's based on mutual respect and fairness, as well as the ability to communicate with one another effectively. Patients who leave doctor ratings and reviews make it easier for everyone to identify these doctors who practice medicine with humanity."
Compassionate Doctor award winners are chosen based on the number of reviews a doctor receives from patients for the calendar year and minimum rating values. The algorithm also takes into account other quality metrics that the provider must meet. With nearly 8 million ratings and reviews, Vitals has the largest collection of crowd-sourced data on doctors than any other online site.
About Vitals
Vitals empowers everyone to shop for their health care like an expert. We bring together cost and quality transparency along with innovative consumer engagement programs to help people select high-quality, lower-cost care. Vitals leads the market with incentive and engagement programs that pay people to shop. Our solutions achieve measurable and sustainable savings for consumers, employers and health plans. Vitals helps more than 120 million people each year access better, more affordable care.
---