Delray Beach , FL, October 2013 - For the Fifth Consecutive Year, Dr. Eidelson is among the select few physicians honored with the prestigious Patients' Choice Award.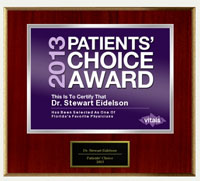 Patient's Choice states that "of the nation's 870,000 active physicians and dentists, just five percent consistently received top scores from their patients on sites like Vitals, qualifying them for this honor in 2013.
Millions of patients go online each year to rate their doctors on various components of care, including accuracy of their diagnosis, the amount of time they spent with the doctor, and the doctor's bedside manner and follow-up care. Patients' Choice reviews these rankings and other quality measures to compile its yearly list of award winners."
SouthPalm Ortho-Spine Institute is a recognized leader in the diagnosis and treatment of spinal stenosis, cervical and lumbar spinal diseases and degeneration. Our practice offers state of the art treatment including the most advanced minimally invasive procedures. Our centers and associates provide total patient care under the direct supervision of Stewart G. Eidelson, MD, one of the nation's leading spine specialists. Dr. Eidelson is a Board Certified, Fellowship Trained Spine Surgeon with a particular interest in the spinal problems of the active senior.
For more information on this Patients' Choice Award winner, please visit Dr. Stewart Eidelson's profile on PatientsChoice.org.
---