Jan. 8, 2015 - Becker's Spine Review identified our own Dr. Eidelson as a "Florida Surgeon to Know". Becker's writer Anuja Vaidya described him as a "surgeon leader to know".
The article was part of Beckers ongoing feature series that identifies "surgeons to know" across America.
Beckers Spine Review is the leading publication covering the world of Spine Surgery in the United States.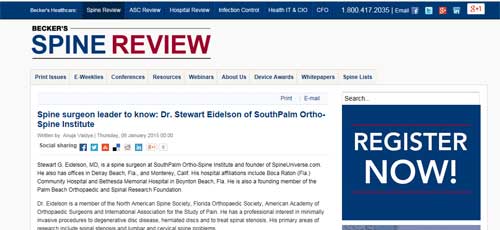 Becker Spine Review has also identified Dr. Eidelson as one 10 Private Practice Spine Surgeons in Florida that you should know.