Expert Witness Review and Testimony
Overview of Stewart G. Eidelson, M.D. Qualifications: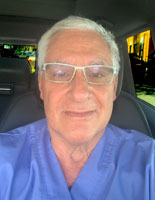 Dr. Eidelson is a Board Certified, Fellowship-trained practicing Orthopaedic spine surgeon providing unbiased IMEs, medical legal reviews, and expert witness opinions substantiated by evidence-based medicine. Practice 100% spine surgery, including cervical, lumbar, degenerative, trauma, minimally invasive surgery, spinal fusion, degenerative disc disease. Reviews for plaintiff and defense.
MEDICAL TRAINING:
Thomas Jefferson Medical College Philadelphia PA Graduated 1976
Internship
New York Medical College Metropolitan Hospital,
N.Y., N.Y. July 1978 - July 1979
Orthopaedic Residency
U.S. Public Health Service
aka: Bailey Seton Hospital,
Staten Island, N.Y. July 1979 - July 1981
Orthopaedic Training
Geisinger Medical Center, Danville PA
July 1981 - July 1982
Alfred I duPont Institute Wilmington, DE
1982-1983
Fellowship
Cleveland Spine and Arthritis Center
Spine Fellowship with Arthur Stefee, M.D.
Completed March 1991
Certifications
Diplomate, American Board of Orthopaedic Surgery
July, 1988 (Re-certified 2007)
Fellow, American Academy of Orthopaedic Surgeons
March, 1991
North American Spine Society
October, 1994
Contact for Expert Witness Services
Please contact by email