Cervical Disc Replacement
It's always been a key part of my practice of medicine, to continue to improve technique and technology. Once a new technology has been demonstrated to be safe and effective, I do my own investigation and research to evaluate whether it is appropropriate for my patients. Typically, that research will reveal a subset of patients who are ideal candidates for a new technique.
We are now providing cervical disc arthroplasty using the ProDisc-C disc replacement device. This is a safe and effective substitute for fusion. The concern with fusion is that it inherently reduces flexibility by eliminating the disc that permits movement of the vertebrae. Artificial discs replace the original disc and thus preserve motion.
About ProDisc-C
The ProDisc-C Total Disc Replacement device is intended to treat a single degenerated (diseased) disc in the upper spine (C3-C7). The ProDisc-C implant was designed in collaboration with practicing spine surgeons and has been thoroughly tested in both laboratory and clinical settings.
Motion
The ProDisc-C implant allows the potential for motion through its ball and socket design.
A plastic inlay affixed to a bottom metal endplate forms the ball.
A polished concave metal surface in the top endplate forms the socket.
The socket can move over the surface of the ball to allow for controlled and predictable motion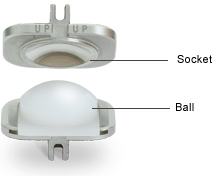 The ProDisc-C implant is secured to the bones (vertebrae) in the spine with a patented central keel on the top and bottom endplates. A coating has also been applied to all the implant surfaces that contact bone to allow for the bone to grow onto the implant.

Clinical History
The ProDisc-C was developed using the same design principles as the ProDisc-L implant. The first ProDisc-C Total Disc Replacement surgery was performed in Europe in 2002. It has been approved by the Food and Drug Administration (FDA) for use in the United States.
A ProDisc-C IDE clinical study evaluated the ProDisc-C Total Disc Replacement surgery compared to spinal fusion surgery*. The study demonstrated that ProDisc-C surgery is a safe and effective alternative to fusion surgery* for qualified patients. For more information about the ProDisc-C IDE Study, you can obtain a copy of the ProDisc-C IDE Study Brochure, or simply contact our practice.
More Information
For more information about the ProDisc-C implant and procedure, please contact our office for evaluation as a candidate for disc replacement.